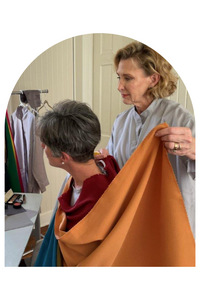 The Process
Luminosity color consultations take place privately in a neutral gray studio.  The client sits before a mirror as the analyst studies changes in skin tone produced by colored drapes held beneath the face.  Unflattering drapes are eliminated while those that brighten the face remain in play. Testing a succession of drapes narrows down the complementary hues to finally reveal the correct Season.  A look in the mirror confirms the transformation brought about by the simple act of wearing colors that are right for you. It's an incredible confidence booster.
Clients leave the session with a canvas booklet containing sixty-five of their best colors. This handy palette book makes shopping simpler and more cost effective. 
Clients also receive an email with a detailed recap of their analysis  covering such topics as – shopping with the color palette fan; a style and fabric reference;  make-up and hair color suggestions; pointers for business dark and neutral clothing; jewelry and accessories by color Season;  a selection of paint colors to create a pleasing backdrop at home.
Learn About The Twelve Seasons